Herbalife Nutrition Ltd. (NYSE:HLF) missed the mark with its Q4 2021 earnings. In my previous articles, I was originally bearish at a price of $48/share, while the S&P 500 increased by 65% over the period and then shifted to neutral as the stock approached my fair value estimate. Since then, HLF shares collapsed another 33% as Q4 delivered underwhelming results, where net sales declined by 6.6% year-over-year and missed analysts' expectations by $46 million, or by ~3%. Meanwhile, the bottom line also missed expectations by $0.07. This weakness occurred in part due to difficult comps as sales declined across every geography except for Asia-Pacific. This decline should have been expected as I previously argued that HLF was a COVID beneficiary:
Herbalife Nutrition Ltd. turned out to be a COVID beneficiary as the company didn't really experience any supply chain hiccups and was able to keep inventory flush for distributors."
Another factor is that management also guided for higher supply chain costs in 2022 performance. I think nearly all industries that sell any type of product have been impacted by this cost inflation, whether it be through raw materials, merchandise, higher freight, or labor costs. The difference is finding companies that have pricing power and some type of hedging program in place to mitigate such costs in order to maintain margins. Herbalife has the capacity to at least control the damage but not entirely, which I'll discuss more later.
Last but not least was the announcement related to Russia. The stock price didn't move much on that day but eventually got around to discounting the damage later in the month. Essentially, Russia represented approximately $144.1 million in net sales, or 2.5% of consolidated FY21. More importantly, EBIT would decline by about $18 million based on my calculated operating deleveraging, which would consequently erode up to 4% of annualized free cash flow. That's a pretty decent dent in operating performance. Although keep in mind that there are some variable expenses embedded with its sales centers and sales leaders, so it could be closer to the top line decline.
Putting that into context, Herbalife guided FY22 EPS guided to $4.25-$4.75, so factoring in the loss of Russia would shave off about $0.13 in EPS, and therefore bring the new range towards $4.12-$4.62 if we're being consistent. So I think it's reasonable to expect HLF will probably come in around $4.37 or lower towards $4/share if were conservative assuming that incremental weakness occurs in sales in the first half of 2022 and/or cost pressures.
For context, management estimated that Q1 will be very weak, followed by deceleration of that weakness in Q2:
"We estimate first quarter net sales to decline in the range of down 10% to down 4%. However, we anticipate that the decline will improve in the second quarter."
So incremental weakness would reflect net sales posting at a 10% decline or greater and if Q2 shows limited improvement versus that print.
What the Market Is Ignoring
While the negatives for HLF are damaging, I think analysts and investors ignored a few positive developments. The first involves the core business model, where sales leaders' retention rate increased in every region year-over-year with the exception of North America.

One of the core arguments in the bear thesis was that Herbalife's sales leader retention rates would collapse as the model was deemed unsustainable, having a poor commission structure, etc. Well, these figures indicate the opposite that existing sales leaders. Furthermore, worldwide sales leaders actually increased to a record 626,797, up from 565,557 in 2020 and 550,859 in 2019. These trends also support HLF's cost structure because employee turnover costs are incredibly expensive for any business, especially in the current environment with high wage inflation.
Another constructive trend is that consolidated volume points, which effectively strip out changes in prices across its product SKUs, also showed year-over-year improvement. They were up considerably throughout the pandemic and have still showed modest growth in 2021:

Herbalife management has a rational practice of matching price increases to local market CPI trends to maintain consistency in its gross margins. They provided additional color around the recent inflation upsurge, indicating they would consider larger price increases if it doesn't impact demand but will likely maintain their existing practices in an effort to sustain volume point growth. Anyway, the point here is that growth largely coming from volume instead of price increases in a consumer business is healthy.
Looking at the product mix, HLF is constantly working on adding new SKUs to develop markets while eliminating unproductive ones. Weight management and targeted nutrition have been the company's bread and butter for years, delivering steady growth. But more recently, its energy, sports, and fitness category become its third-largest product category and total sales growth increased by 26.2% in FY21.

Energy, Sports, and Fitness had most of its sales growth come from North America, which includes the branded products of Herbalife24, N-R-G Tea, and its Liftoff energy drink. While Herbalife's products in this category are consistent with others available in the market, consumers are mostly providing five star reviews and positive comments. Clearly, this space is competitive, but Herbalife's sales performance is significantly outpacing the broader growth reported for protein supplements and energy drinks.
Other Considerations
HLF's balance sheet has a moderate level of debt, which could turn into a problem for most consumer-related stocks, but its overall performance history shows it will not be an issue. Total debt outstanding is about $2.76 billion and cash and equivalents are $601.5 million, which brings net debt to about $2.16 billion.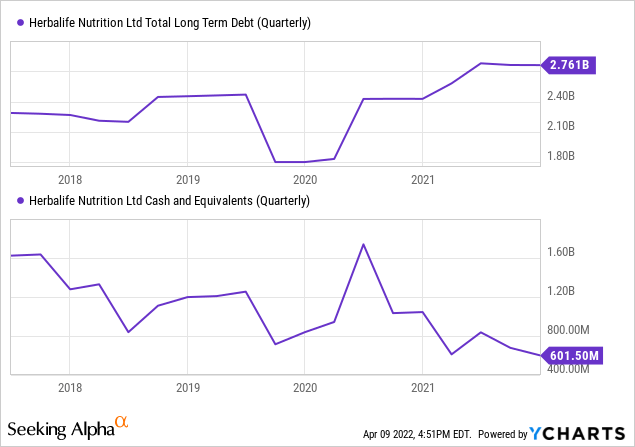 Presently, HLF has about $152.2 million in net interest expenses tied to its debt stack. Of the total, about $1.07 billion of that has variable coupon payments. So for every 100bps increase in base interest rates, net interest expenses will also rise by about $10.7 million. I think there's a decent chance that base rates will eventually move towards 1% or 2% depending on economic conditions, so all in, we can expect net interest expenses to expand towards $174 million.
So if we factor in the loss of Russia EBIT and higher interest expenses, that's an earnings headwind of about $40 million. If we pair that against its FY22 guidance of adjusted EBITDA between $785 million and $845 million, on the lower end, net income could end up approaching somewhere between $390 million and $435 million. Note that this range is below management's aforementioned EPS guidance.
All that being said, even if EPS comes in around $3.60 against a diluted share count of $108.3 million, that's still well above pre-pandemic levels.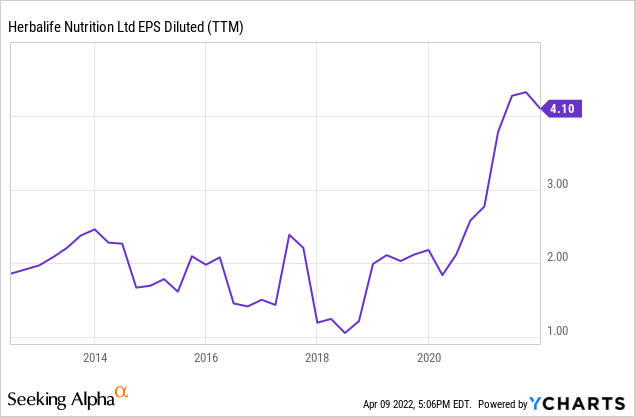 Moving on, HLF does have a share repurchase program in place and indicated that they plan to repurchase about $200 million worth of stock. Even at the low end of expected earnings, these buybacks are accretive at an earnings yield of 11+%. However, if we believe that management's guidance is intact, then the earnings yield of 14%. In other words, it's a no-brainer for management to be repurchasing shares at the $30 handle and lower.
Valuation
Over the years, HLF's free cash flow performance has been a little volatile but it's easy to smooth out to understand what an average year looks like. If we take free cash flow adjusted for changes in working capital, the five and ten-year averages came out to $438 million and $450 million, respectively. So the company is currently being valued at approximately 7.4x free cash flow today. If we want to take a much more conservative approach, I looked at both free cash flow adj. for W/C as well as plain old free cash flow and pulled the lower of both to calculate the five and ten-year averages. Those figures came out to $413 million and $400 million, respectively, so that would come out to about 8x FCF. That's still pretty cheap for a company that's guiding LSD revenue growth (i.e. 0-6% for FY22) and has a consistently stable margin profile in the low-teens range.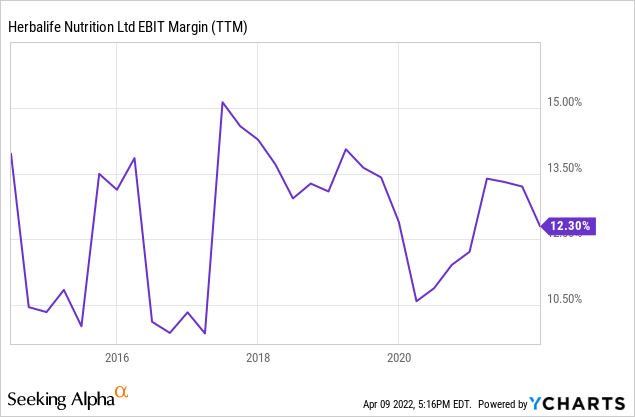 And then if we throw out historical performance and assume that FY22 is the new normal, the company is still throwing off about $400 million in free cash flow. With predictable earnings and free cash flow performance, I think Herbalife deserves an 11x multiple, especially if it can maintain its volume point growth. That would roughly translate to a fair value range of $40-45 per share depending on how you think FCF will trend in the future. Therefore, investors are looking at anywhere from 30-50% upside in shares. And the longer the stock muddles around $30, or perhaps moves lower, only makes the buyback program more accretive for shareholders.
Bottom Line
While Herbalife is a controversial battleground stock, I think the company's operating performance speaks for it is much more resilient than the market gives it credit for. To be clear, Herbalife reported record revenue and earnings in FY21 even after many bears called for its demise in 2012. Here we are a decade later, and the company has a record amount of sales leaders, continues growing product SKUs, and has retired more than half of its outstanding shares. Today, the stock is valued between 7-8x earnings while net sales are projected to grow again in FY22. As the stock trades near 52-week lows, I think investors are being handed another opportunity to buy shares at a discount. How do you think HLF will perform? Let me know in the comments section below. As always, thank you for reading.
If you enjoyed this article and want more direct access to my research and ideas as well as the chance to chat with me and review my two model portfolios (dividend and long-only total return stocks) and my overall investing strategy, please note that I am launching a Marketplace Service called Equanimity Research in April. I am very excited to foster a community of like-minded investors. There will be a considerable discount for early annual subscribers. Soon you will be able to sign up for a two-week free trial.*
*Free trial only valid for first-time subscribers.